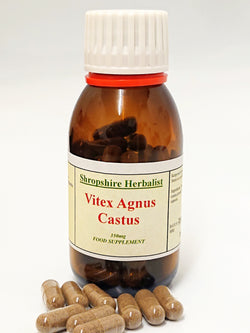 Vitex Agnus Castus
Also known as chasteberry or monk's pepper, this natural remedy has been used across many cultures for many years and is now most commonly used for PMS. 
Pure powder in vegetarian capsules.
Directions: One or Two capsules per day, or as directed by your Herbalist.
Ingredients: Vitex Agnus castus powder, vegetarian capsule.
350mg
FOOD SUPPLEMENT
60 caps
Keep out of reach of Children. Store in a cool dark place.