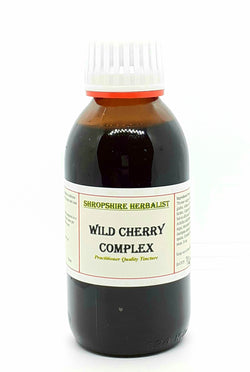 Wild Cherry Complex
A powerful combination traditionally used to clear the chest and ease breathing.

Directions: One 5ml teaspoon in a little warm water three times per day, or as directed by your Herbalist.
Ingredients: Prunus serotina, Thymus vulgaris, Glycihrriza glabra, Althea off, Tussilago farfare, Capsicum minimum, Salvia officinalis, Mentha pip, Achillea millefolium, Sambucus nigra, Marrubium vulgare, Asclepias tuberose, Viburnum opulus, Grindelia, Inula helenium, Syrup.
150ml
Keep out of reach of Children